Image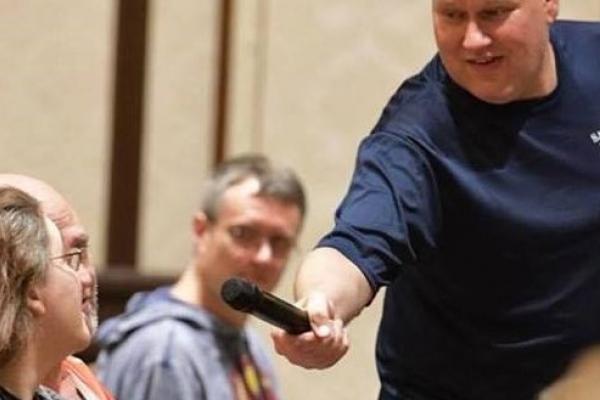 August 2, 2018
7:30PM - 8:30PM
Location
Backstage Bistro, 503 S Front St
Date Range
Add to Calendar
2018-08-02 19:30:00
2018-08-02 20:30:00
Columbus Science Pub: Weird Science
Join us at Backstage Bistro for Weird Science with Dr. Rob Pyatt.Weird Science is part stand-up comedy, part science review, and all fun. Dr. Rob Pyatt will lead a discussion of some of the strangest science studies ever conducted. From "Waitresses Facial Cosmetics and Tipping: A Field Experiment" to "Users Really do Plug in USB Drives They Find." We'll even do some science with the crowd in our annual (and anonymous!) Weird Science study. Last year's topic: "Are you a selfie expert?" Rob describes himself as a "stand-up scientist". For his day job, Dr. Pyatt is the director of the Sanford Medical Genetics and Medical Genomics Laboratories and an Associate Professor at the University of South Dakota's department of Internal Medicine. He is also a contributing writer to the Annals of Improbable Research. https://www.facebook.com/ColumbusSciencePub/ 
Backstage Bistro, 503 S Front St
OSU ASC Drupal 8
ascwebservices@osu.edu
America/New_York
public
Date Range
Add to Calendar
2018-08-02 19:30:00
2018-08-02 20:30:00
Columbus Science Pub: Weird Science
Join us at Backstage Bistro for Weird Science with Dr. Rob Pyatt.Weird Science is part stand-up comedy, part science review, and all fun. Dr. Rob Pyatt will lead a discussion of some of the strangest science studies ever conducted. From "Waitresses Facial Cosmetics and Tipping: A Field Experiment" to "Users Really do Plug in USB Drives They Find." We'll even do some science with the crowd in our annual (and anonymous!) Weird Science study. Last year's topic: "Are you a selfie expert?" Rob describes himself as a "stand-up scientist". For his day job, Dr. Pyatt is the director of the Sanford Medical Genetics and Medical Genomics Laboratories and an Associate Professor at the University of South Dakota's department of Internal Medicine. He is also a contributing writer to the Annals of Improbable Research. https://www.facebook.com/ColumbusSciencePub/ 
Backstage Bistro, 503 S Front St
The STEAM Factory at The Ohio State University
steamfactory@osu.edu
America/New_York
public
Description
Join us at Backstage Bistro for Weird Science with Dr. Rob Pyatt.
Weird Science is part stand-up comedy, part science review, and all fun. Dr. Rob Pyatt will lead a discussion of some of the strangest science studies ever conducted. From "Waitresses Facial Cosmetics and Tipping: A Field Experiment" to "Users Really do Plug in USB Drives They Find." We'll even do some science with the crowd in our annual (and anonymous!) Weird Science study. Last year's topic: "Are you a selfie expert?" 
Rob describes himself as a "stand-up scientist". For his day job, Dr. Pyatt is the director of the Sanford Medical Genetics and Medical Genomics Laboratories and an Associate Professor at the University of South Dakota's department of Internal Medicine. He is also a contributing writer to the Annals of Improbable Research. 
https://www.facebook.com/ColumbusSciencePub/
---