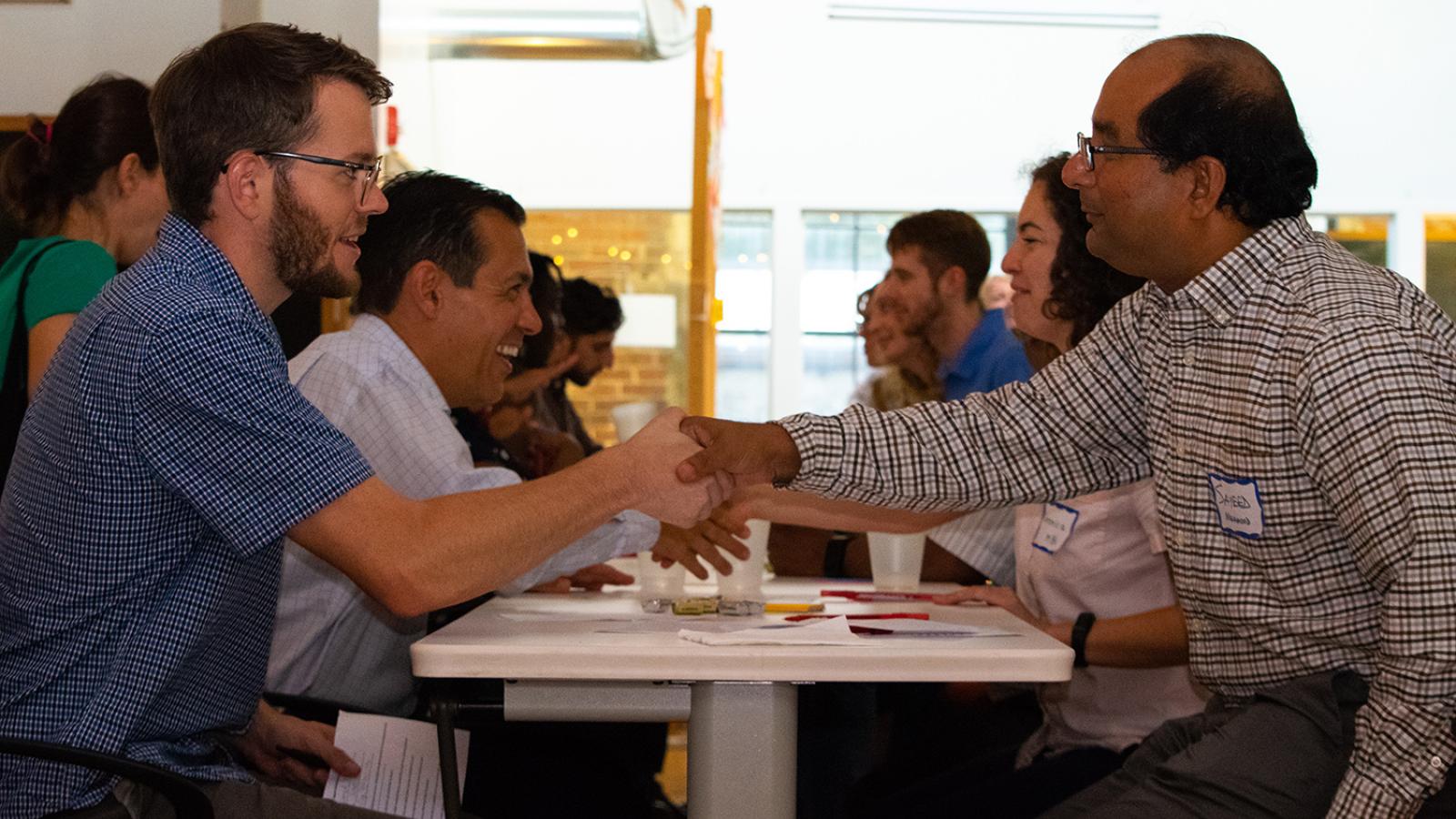 Body
In 2019, we invited applications from early career scholars (≤ five years since PhD or appropriate terminal degree) for the inaugural Interdisciplinary Postdoctoral Research program. The program offered a two-year postdoctoral opportunity for scholars focused on one of the following two themes: (1) The Future of Mobility & Smart Cities, and (2) Sustainable Urban Systems. We focused on applicants whose work included ambitious endeavors, spanned multiple disciplines, and connects with public outreach and research engagement. Applicants should specified their thematic focus in their statement of interest and included components as to how they would benefit from working in an urban setting within a multidisciplinary group, rather than in a traditional academic department on campus. 
Our Post-docs have the opportunity to work with faculty from almost every discipline (https://steamfactory.osu.edu/directory). They are expected to work directly with at least two core faculty mentors and their research groups, establishing a joint project(s) that have the potential for broader impact and innovative inquiry. Post-docs also actively work to develop new initiatives and managing ongoing programs at STEAM that further its mission of research collaboration and outreach. 
The thematic focus areas for this inaugural program were supported in partnership with the Sustainability Institute at Ohio State (SI) and Ohio State Energy Partners (for Sustainable Urban Systems), and Honda Research (for Mobility and Smart Cities). 
Theme 1: Future of Mobility & Smart Cities
Requirements: PhD (or comparable training and experience) in mobility and smart city-related fields: urban studies, transportation, statistics, geography, computer science, engineering, operations research, or a related field. Applicants should have excellent academic standing and strong foundational knowledge in the intersection of urban studies and data analytics. Candidates with a variety of methodological training were considered if they sufficiently demonstrate the ability to conduct breakthrough research on smart cities, mobility, and next-generation transport. Applicants were asked to  highlight their methodological competencies, especially related to the following: programming, networks and optimization, statistics, simulation, program evaluation, trauma-informed research, and/or public health. Positive work attitude, good communication and interpersonal skills and an ability to work independently and in multi-disciplinary teams are also required skills.
Theme 2: Sustainable Urban Systems
Requirements: PhD (or equivalent) in a relevant field of the social sciences, including economics, geography, public policy, planning, or environmental humanities.  Applicants should demonstrate excellent academic standing and ability to conduct innovative research in sustainable urban development. We are particularly interested in candidates who use an integrative, systems approach to sustainability and resilience issues in application domains such as urban land use, transportation, energy, water systems, air quality, social equity, and climate change. Desired methodological skills included, but were not limited to, geospatial data analytics, geovisualization, or applied econometrics. We especially encourage applicants who can demonstrated collaborative work that bridges the social sciences with engineering, the natural sciences or humanities.
Our 2019 - 2021 STEAM Interdiciplinary Postdoctoral Researchers are...
Jon's research focuses on the ways information technologies influence travel through changes to work location, and the potential of this knowledge to foster more sustainable, active, and just mobilities. For his dissertation, Jonathan explored how the adoption of evolving forms of remote working such as nomadic work affects transportation system usage in the multimodal urban context of the New York metropolitan area.
His mentors:
Harvey Miller, Reusche Chair in Geographic Information Science; Professor, Department of Geography; Director, Center for Urban and Regional Analysis
Yasuyuki (Yas) Motoyama, Associate Professor, City and Regional Planning
Atar specializes in behavior and sustainability, trained as an organizational (MA), social and economic psychologist (PhD). Her research focuses on consumer behavior in pro-social and pro-environmental contexts, often utilizing experimental design. She is particularly passionate about research in ethical decision making, and translating basic research to applied implications. Some of the topics she is  interested in are: consumption reduction, sustainable consumption, consumer habits, self-control, charitable giving.
Her mentors: 
Jeremy Brooks, Assistant Professor, School of Environment and Natural Resources
Andre Carrel, Assistant Professor, Civil, Environmental, and Geodetic Engineering