Image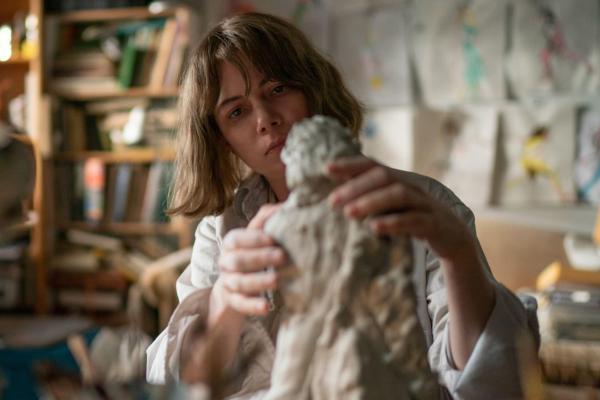 March 20, 2023
6:30PM - 7:00PM
Location
1871 North High Street Columbus, Ohio 43210
Date Range
Add to Calendar
2023-03-20 18:30:00
2023-03-20 19:00:00
Showing Up | Wexner Center for the Arts
Independent filmmaker Kelly Reichardt returns for the Ohio premiere of Showing Up and the US premieres of two shorts made in preparation for this celebrated feature. Reichardt's drama stars Michelle Williams, who plays a sculptor struggling to balance the demands of work and family life in the days leading up to an exhibition opening. A past Wexner Center Artist Residency Award recipient, Reichardt offers an empathetic portrait that avoids clichés about working artists while capturing intimate day-to-day details. Showing Up marks Reichardt's fourth collaboration with Williams, deepening one of contemporary cinema's most meaningful partnerships. The stellar supporting cast includes Hong Chau, John Magaro, André 3000, James Le Gros, and Judd Hirsch. (108 mins., DCP) Helping us navigate this immersion into the creative life, visual artist Marlene McCarty will join us to moderate the postscreening discussion and Q&A. McCarty has worked across various media, especially drawing and graphic design, since the 1980s. She was a member of the AIDS activist collective Gran Fury, the cofounder of the transdisciplinary design studio Bureau along with Donald Moffett, and the designer of title sequences for such films as American Psycho, Safe, and Reichardt's own Meek's Cutoff and Night Moves. Come early at 6:30 PM to see two short films Reichardt made in preparation for Showing Up. Commissed by the Centre Pompidou in Paris, Bronx, New York, November 2019 (2021) and Cal State Long Beach, CA, January 2020 (2021) see Reichardt filming sculptors Michelle Segre and Jessica Jackson Hutchins working in their studios. Don't miss this rare opportunity to experience the first theatrical screening of the two films in the US. (total run time 20 mins., DCP) Purchase Tickets Here
1871 North High Street Columbus, Ohio 43210
OSU ASC Drupal 8
ascwebservices@osu.edu
America/New_York
public
Add to Calendar
2023-03-20 19:00:00
2023-03-20 19:30:00
Showing Up | Wexner Center for the Arts
Independent filmmaker Kelly Reichardt returns for the Ohio premiere of Showing Up and the US premieres of two shorts made in preparation for this celebrated feature. Reichardt's drama stars Michelle Williams, who plays a sculptor struggling to balance the demands of work and family life in the days leading up to an exhibition opening. A past Wexner Center Artist Residency Award recipient, Reichardt offers an empathetic portrait that avoids clichés about working artists while capturing intimate day-to-day details. Showing Up marks Reichardt's fourth collaboration with Williams, deepening one of contemporary cinema's most meaningful partnerships. The stellar supporting cast includes Hong Chau, John Magaro, André 3000, James Le Gros, and Judd Hirsch. (108 mins., DCP) Helping us navigate this immersion into the creative life, visual artist Marlene McCarty will join us to moderate the postscreening discussion and Q&A. McCarty has worked across various media, especially drawing and graphic design, since the 1980s. She was a member of the AIDS activist collective Gran Fury, the cofounder of the transdisciplinary design studio Bureau along with Donald Moffett, and the designer of title sequences for such films as American Psycho, Safe, and Reichardt's own Meek's Cutoff and Night Moves. Come early at 6:30 PM to see two short films Reichardt made in preparation for Showing Up. Commissed by the Centre Pompidou in Paris, Bronx, New York, November 2019 (2021) and Cal State Long Beach, CA, January 2020 (2021) see Reichardt filming sculptors Michelle Segre and Jessica Jackson Hutchins working in their studios. Don't miss this rare opportunity to experience the first theatrical screening of the two films in the US. (total run time 20 mins., DCP) Purchase Tickets Here
1871 North High Street Columbus, Ohio 43210
OSU ASC Drupal 8
ascwebservices@osu.edu
America/New_York
public
Date Range
Add to Calendar
2023-03-20 18:30:00
2023-03-20 19:00:00
Showing Up | Wexner Center for the Arts
Independent filmmaker Kelly Reichardt returns for the Ohio premiere of Showing Up and the US premieres of two shorts made in preparation for this celebrated feature. Reichardt's drama stars Michelle Williams, who plays a sculptor struggling to balance the demands of work and family life in the days leading up to an exhibition opening. A past Wexner Center Artist Residency Award recipient, Reichardt offers an empathetic portrait that avoids clichés about working artists while capturing intimate day-to-day details. Showing Up marks Reichardt's fourth collaboration with Williams, deepening one of contemporary cinema's most meaningful partnerships. The stellar supporting cast includes Hong Chau, John Magaro, André 3000, James Le Gros, and Judd Hirsch. (108 mins., DCP) Helping us navigate this immersion into the creative life, visual artist Marlene McCarty will join us to moderate the postscreening discussion and Q&A. McCarty has worked across various media, especially drawing and graphic design, since the 1980s. She was a member of the AIDS activist collective Gran Fury, the cofounder of the transdisciplinary design studio Bureau along with Donald Moffett, and the designer of title sequences for such films as American Psycho, Safe, and Reichardt's own Meek's Cutoff and Night Moves. Come early at 6:30 PM to see two short films Reichardt made in preparation for Showing Up. Commissed by the Centre Pompidou in Paris, Bronx, New York, November 2019 (2021) and Cal State Long Beach, CA, January 2020 (2021) see Reichardt filming sculptors Michelle Segre and Jessica Jackson Hutchins working in their studios. Don't miss this rare opportunity to experience the first theatrical screening of the two films in the US. (total run time 20 mins., DCP) Purchase Tickets Here
1871 North High Street Columbus, Ohio 43210
The STEAM Factory at The Ohio State University
steamfactory@osu.edu
America/New_York
public
March 20, 2023
7:00PM - 7:30PM
Location
1871 North High Street Columbus, Ohio 43210
Date Range
Add to Calendar
2023-03-20 18:30:00
2023-03-20 19:00:00
Showing Up | Wexner Center for the Arts
Independent filmmaker Kelly Reichardt returns for the Ohio premiere of Showing Up and the US premieres of two shorts made in preparation for this celebrated feature. Reichardt's drama stars Michelle Williams, who plays a sculptor struggling to balance the demands of work and family life in the days leading up to an exhibition opening. A past Wexner Center Artist Residency Award recipient, Reichardt offers an empathetic portrait that avoids clichés about working artists while capturing intimate day-to-day details. Showing Up marks Reichardt's fourth collaboration with Williams, deepening one of contemporary cinema's most meaningful partnerships. The stellar supporting cast includes Hong Chau, John Magaro, André 3000, James Le Gros, and Judd Hirsch. (108 mins., DCP) Helping us navigate this immersion into the creative life, visual artist Marlene McCarty will join us to moderate the postscreening discussion and Q&A. McCarty has worked across various media, especially drawing and graphic design, since the 1980s. She was a member of the AIDS activist collective Gran Fury, the cofounder of the transdisciplinary design studio Bureau along with Donald Moffett, and the designer of title sequences for such films as American Psycho, Safe, and Reichardt's own Meek's Cutoff and Night Moves. Come early at 6:30 PM to see two short films Reichardt made in preparation for Showing Up. Commissed by the Centre Pompidou in Paris, Bronx, New York, November 2019 (2021) and Cal State Long Beach, CA, January 2020 (2021) see Reichardt filming sculptors Michelle Segre and Jessica Jackson Hutchins working in their studios. Don't miss this rare opportunity to experience the first theatrical screening of the two films in the US. (total run time 20 mins., DCP) Purchase Tickets Here
1871 North High Street Columbus, Ohio 43210
OSU ASC Drupal 8
ascwebservices@osu.edu
America/New_York
public
Add to Calendar
2023-03-20 19:00:00
2023-03-20 19:30:00
Showing Up | Wexner Center for the Arts
Independent filmmaker Kelly Reichardt returns for the Ohio premiere of Showing Up and the US premieres of two shorts made in preparation for this celebrated feature. Reichardt's drama stars Michelle Williams, who plays a sculptor struggling to balance the demands of work and family life in the days leading up to an exhibition opening. A past Wexner Center Artist Residency Award recipient, Reichardt offers an empathetic portrait that avoids clichés about working artists while capturing intimate day-to-day details. Showing Up marks Reichardt's fourth collaboration with Williams, deepening one of contemporary cinema's most meaningful partnerships. The stellar supporting cast includes Hong Chau, John Magaro, André 3000, James Le Gros, and Judd Hirsch. (108 mins., DCP) Helping us navigate this immersion into the creative life, visual artist Marlene McCarty will join us to moderate the postscreening discussion and Q&A. McCarty has worked across various media, especially drawing and graphic design, since the 1980s. She was a member of the AIDS activist collective Gran Fury, the cofounder of the transdisciplinary design studio Bureau along with Donald Moffett, and the designer of title sequences for such films as American Psycho, Safe, and Reichardt's own Meek's Cutoff and Night Moves. Come early at 6:30 PM to see two short films Reichardt made in preparation for Showing Up. Commissed by the Centre Pompidou in Paris, Bronx, New York, November 2019 (2021) and Cal State Long Beach, CA, January 2020 (2021) see Reichardt filming sculptors Michelle Segre and Jessica Jackson Hutchins working in their studios. Don't miss this rare opportunity to experience the first theatrical screening of the two films in the US. (total run time 20 mins., DCP) Purchase Tickets Here
1871 North High Street Columbus, Ohio 43210
OSU ASC Drupal 8
ascwebservices@osu.edu
America/New_York
public
Date Range
Add to Calendar
2023-03-20 19:00:00
2023-03-20 19:30:00
Showing Up | Wexner Center for the Arts
Independent filmmaker Kelly Reichardt returns for the Ohio premiere of Showing Up and the US premieres of two shorts made in preparation for this celebrated feature. Reichardt's drama stars Michelle Williams, who plays a sculptor struggling to balance the demands of work and family life in the days leading up to an exhibition opening. A past Wexner Center Artist Residency Award recipient, Reichardt offers an empathetic portrait that avoids clichés about working artists while capturing intimate day-to-day details. Showing Up marks Reichardt's fourth collaboration with Williams, deepening one of contemporary cinema's most meaningful partnerships. The stellar supporting cast includes Hong Chau, John Magaro, André 3000, James Le Gros, and Judd Hirsch. (108 mins., DCP) Helping us navigate this immersion into the creative life, visual artist Marlene McCarty will join us to moderate the postscreening discussion and Q&A. McCarty has worked across various media, especially drawing and graphic design, since the 1980s. She was a member of the AIDS activist collective Gran Fury, the cofounder of the transdisciplinary design studio Bureau along with Donald Moffett, and the designer of title sequences for such films as American Psycho, Safe, and Reichardt's own Meek's Cutoff and Night Moves. Come early at 6:30 PM to see two short films Reichardt made in preparation for Showing Up. Commissed by the Centre Pompidou in Paris, Bronx, New York, November 2019 (2021) and Cal State Long Beach, CA, January 2020 (2021) see Reichardt filming sculptors Michelle Segre and Jessica Jackson Hutchins working in their studios. Don't miss this rare opportunity to experience the first theatrical screening of the two films in the US. (total run time 20 mins., DCP) Purchase Tickets Here
1871 North High Street Columbus, Ohio 43210
The STEAM Factory at The Ohio State University
steamfactory@osu.edu
America/New_York
public
Description
Independent filmmaker Kelly Reichardt returns for the Ohio premiere of Showing Up and the US premieres of two shorts made in preparation for this celebrated feature.
Reichardt's drama stars Michelle Williams, who plays a sculptor struggling to balance the demands of work and family life in the days leading up to an exhibition opening. A past Wexner Center Artist Residency Award recipient, Reichardt offers an empathetic portrait that avoids clichés about working artists while capturing intimate day-to-day details. Showing Up marks Reichardt's fourth collaboration with Williams, deepening one of contemporary cinema's most meaningful partnerships. The stellar supporting cast includes Hong Chau, John Magaro, André 3000, James Le Gros, and Judd Hirsch. (108 mins., DCP)
Helping us navigate this immersion into the creative life, visual artist Marlene McCarty will join us to moderate the postscreening discussion and Q&A. McCarty has worked across various media, especially drawing and graphic design, since the 1980s. She was a member of the AIDS activist collective Gran Fury, the cofounder of the transdisciplinary design studio Bureau along with Donald Moffett, and the designer of title sequences for such films as American Psycho, Safe, and Reichardt's own Meek's Cutoff and Night Moves.
Come early at 6:30 PM to see two short films Reichardt made in preparation for Showing Up. Commissed by the Centre Pompidou in Paris, Bronx, New York, November 2019 (2021) and Cal State Long Beach, CA, January 2020 (2021) see Reichardt filming sculptors Michelle Segre and Jessica Jackson Hutchins working in their studios. Don't miss this rare opportunity to experience the first theatrical screening of the two films in the US. (total run time 20 mins., DCP)
---