Image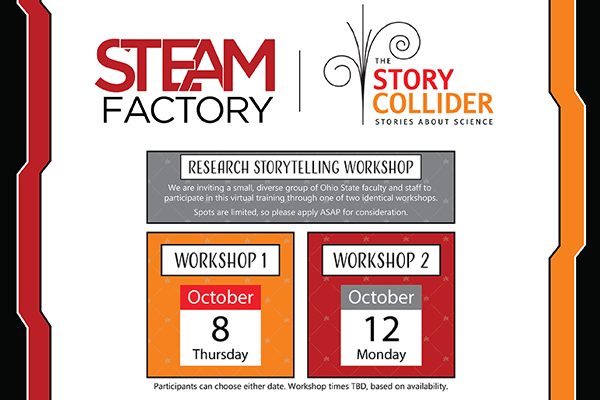 Description
We've got great news to share, STEAM Factory has been awarded a BETHA 2020 grant that will be used to enhance ​the storytelling capacity of The Ohio State University's research community! This grant will fund an exciting partnership between us and The Story Collider for two virtual workshops. 
These are limited space workshops for faculty and staff of The Ohio State University who are interested in developing their storytelling skills. We are offering our STEAM members the first opportunity to register for this special training.
Here's a bit more information about the workshops: 
Benefits of The Story Collider training – Best known for their riveting podcasts and compelling live shows, The Story Collider weaves together research, humor, insight and personal stories to create compelling narratives about the science of our lives. Seriously, what could be better than that?! No wonder we have so many long-time fans of theirs among our membership and grant team! If you're interested, check out more info on The Story Collider's, workshops, podcasts and live shows.  
Virtual workshop dates (choose one): 
Workshop #1: Thursday, October 8th, OR 
Workshop #2: Monday, October 12th  
Participants can choose either workshop date. Times to be determined and based on participant availability.  
Workshop logistics – Each virtual workshop is four hours long and will be divided into 2-hour segments with at least an hour break in between sessions. 
Follow-up opportunities – Following the workshops, three workshop participants will be selected to perform their stories as a part of an online "Story Collider Presents" live public show. There will also be opportunities for working with an improv professional, think science meets stand-up, and capturing your work/performance in VR. These follow-up activities are optional and will be planned separate from the storytelling workshop.
Are you interested in registering? If so, please take a moment to complete this very short application: [go.osu.edu/steamcollider2020apply]go.osu.edu/steamcollider2020apply.    We expect seats will fill up fast and will use a waitlist to ensure as many people are able to participate as possible. After you register, you will receive confirmation of your placement in a workshop or on the waitlist in the coming weeks.
Register today for The Story Collider Storytelling Workshop!
---