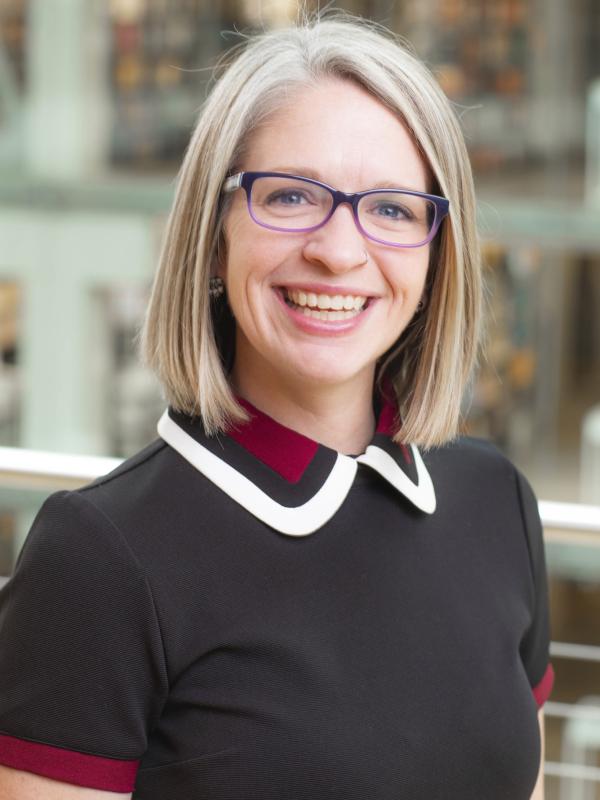 Amanda Folk
Assistant Professor and Head, Teaching & Learning
221A Thompson Library
1857 Neil Avenue

Areas of Expertise
Undergraduate learning
Information literacy
Equity-mindedness
Education
PhD, The University of Pittsburgh, School of Education
MLIS, The University of Pittsburgh, School of Information Science
MTS, Harvard University, Harvard Divinity School
BA, University of Richmond, German and Religion
Dr. Amanda L. Folk is an assistant professor and Head of the Teaching & Learning Department in the University Libraries. In this role, Folk leads the Teaching & Learning Department to identify scalable and sustainable approaches to developing the information literacy of Ohio State students. In addition to working with students through the curriculum and co-curricular activities, the creation of instructor development initiatives has been a strategic part of this work. The Meaningful Inquiry workshop, offered as an endorsement through the Drake Institute, is based on Folk's dissertation research exploring first-generation college students' experiences with research assignments in college.
Folk's scholarship combines her professional interests in teaching, learning, and information literacy with her desire to support student populations that have traditionally been marginalized in higher education. Her recent article "Reframing Information Literacy as Academic Cultural Capital: A Critical and Equity-Based Foundation for Practice, Assessment, and Scholarship" won the 2020 Ilene F. Rockman Instruction Publication of the Year Award from the Association of College & Research Libraries' Instruction Section. Folk has a forthcoming two-part special report exploring Black and African-American students' experiences with libraries that will be published by ALA Editions. In addition to being active in both the American Library Association and the Association of College & Research Libraries, Folk is currently the editor-in-chief of the Journal of Academic Librarianship.
Prior to joining Ohio State, Folk was the Director of the Millstein Library at the University of Pittsburgh and Coordinator of Pitt's regional campus libraries. She received her PhD from Pitt's School of Education, her MLIS from Pitt's School of Information Science, and her MTS from Harvard University's Divinity School.
People Filters: