Image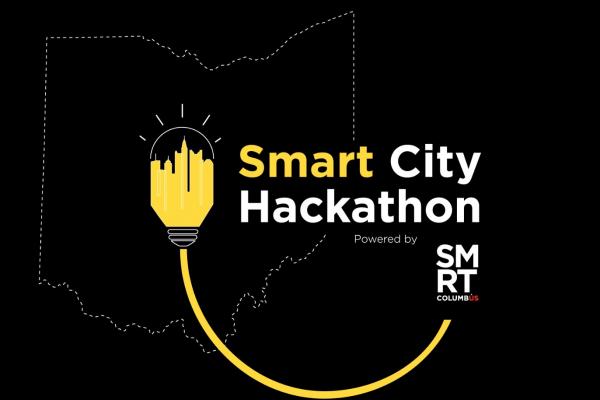 May 18 - May 20, 2018
6:00PM - 8:00PM
Location
Fintech71, 107 South High Street, Suite 200 
Date Range
Add to Calendar
2018-05-18 18:00:00
2018-05-20 20:00:00
The Smart City Hackathon powered by Smart Columbus
Smart Columbus hosts hackathon, using Big Data to brainstorm apps to feed the hungry, make traffic safer.Smart Columbus is paging software developers, hardware tinkerers and just plain people with good ideas to harness troves of public and private data to make roads safer and get surplus food to households facing hunger.Join us for a weekend focused on building intelligent solutions by leveraging the Smart Columbus Operating System (SCOS). We'll provide a platform for open data as well as some vetted smart city use cases for you to leverage, to create innovative solutions for our community. Smart City Hackathon follows the standard format: Attendees show up with or without a fully formed idea, choose one to pursue after an initial round of pitches, form teams and get building. Although the initiative's central data pool is not yet built, there will be sample sets of historical data on which to test prototype software and apps. Select a track or bring your own use cases to focus on — the choice is yours.Attendees will receive: Sweet workspace at Fintech71 for the weekend Invaluable access to a community of world class entrepreneurs and mentors 3 dinners, 2 lunches, 2 breakfasts A sweet t-shirt All the coffee, soda, energy drinks, and water you could ever need An amazing experience and chance to get a taste of the startup world And more coming soon!Use promo code SMRTVIP for a complimentary ticket, courtesy of Smart Columbus. For tickets visit: http://www.hackSCOS.com
Fintech71, 107 South High Street, Suite 200 
OSU ASC Drupal 8
ascwebservices@osu.edu
America/New_York
public
Date Range
Add to Calendar
2018-05-18 18:00:00
2018-05-20 20:00:00
The Smart City Hackathon powered by Smart Columbus
Smart Columbus hosts hackathon, using Big Data to brainstorm apps to feed the hungry, make traffic safer.Smart Columbus is paging software developers, hardware tinkerers and just plain people with good ideas to harness troves of public and private data to make roads safer and get surplus food to households facing hunger.Join us for a weekend focused on building intelligent solutions by leveraging the Smart Columbus Operating System (SCOS). We'll provide a platform for open data as well as some vetted smart city use cases for you to leverage, to create innovative solutions for our community. Smart City Hackathon follows the standard format: Attendees show up with or without a fully formed idea, choose one to pursue after an initial round of pitches, form teams and get building. Although the initiative's central data pool is not yet built, there will be sample sets of historical data on which to test prototype software and apps. Select a track or bring your own use cases to focus on — the choice is yours.Attendees will receive: Sweet workspace at Fintech71 for the weekend Invaluable access to a community of world class entrepreneurs and mentors 3 dinners, 2 lunches, 2 breakfasts A sweet t-shirt All the coffee, soda, energy drinks, and water you could ever need An amazing experience and chance to get a taste of the startup world And more coming soon!Use promo code SMRTVIP for a complimentary ticket, courtesy of Smart Columbus. For tickets visit: http://www.hackSCOS.com
Fintech71, 107 South High Street, Suite 200 
The STEAM Factory at The Ohio State University
steamfactory@osu.edu
America/New_York
public
Description
Smart Columbus hosts hackathon, using Big Data to brainstorm apps to feed the hungry, make traffic safer.
Smart Columbus is paging software developers, hardware tinkerers and just plain people with good ideas to harness troves of public and private data to make roads safer and get surplus food to households facing hunger.
Join us for a weekend focused on building intelligent solutions by leveraging the Smart Columbus Operating System (SCOS). We'll provide a platform for open data as well as some vetted smart city use cases for you to leverage, to create innovative solutions for our community. Smart City Hackathon follows the standard format: Attendees show up with or without a fully formed idea, choose one to pursue after an initial round of pitches, form teams and get building. Although the initiative's central data pool is not yet built, there will be sample sets of historical data on which to test prototype software and apps. Select a track or bring your own use cases to focus on — the choice is yours.
Attendees will receive: 
Sweet workspace at Fintech71 for the weekend 
Invaluable access to a community of world class entrepreneurs and mentors 
3 dinners, 2 lunches, 2 breakfasts 
A sweet t-shirt 
All the coffee, soda, energy drinks, and water you could ever need 
An amazing experience and chance to get a taste of the startup world 
And more coming soon!
Use promo code SMRTVIP for a complimentary ticket, courtesy of Smart Columbus. For tickets visit: http://www.hackSCOS.com
---