July 8, 2021
AISL Blog: High School I/O
Image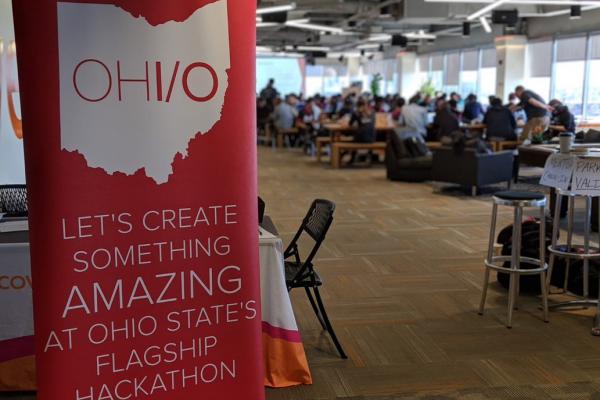 Description
High School I/O is a creative race for innovation and exploration presented by OHI/O, Ohio State's Informal Learning Program. (hack.osu.edu) This is a one-day event of coding, building, and connecting with new friends and innovative ideas. Student teams address real world issues such as climate change and transportation challenges in a sprint to design potential solutions. Students learn about cooperation and computer science in a fun, engaging, and inclusive environment unique from any classroom experience.
This past year, OHI/O hosted 2 virtual High School I/O hackathons for students in grades 9-12 from around Ohio (October 2020 and March 2021). Each event had about 50 students participate. 
High School I/O encourages young adults to explore big ideas and realize the impact they can have on their communities, their country or the world through tech innovation and creative problem solving.  Mentors are provided at the college and professional level, skill builder workshops are available during the day, and information about what a future in tech can look like. This is a one-of-a-kind opportunity for students to grow their problem-solving confidence in a hands-on learning environment.
To dive into collaboration, the AISL cohort members were put together to discuss where their fields of study might converge, and to create a problem statement for the High School I/O events.  Sometimes these cohorts had a few to many previous interactions. One time, it was their first in depth discussion and had to get to know each other quickly.
What is a challenge? 
Students are presented with problems that industry professionals face every day or see in the community. Students are not asked to solve the entire issue, but to identify an area of improvement and design solutions to address the problem is a tangible way with measurable outcomes.
Each team may choose to take on one of the provided challenges or present their own unique problem statement. Mentors are available throughout the event to support student's exploration of the problem, providing feedback and insights.
Finally, each project is judged based on the cohorts' criteria for their challenge. Teams are provided feedback and awarded prizes for their efforts.
Cohorts' Challenges
Each AISL Faculty Cohort came together to create a "challenge" problem statement. Cohort members identified areas of convergence and isolated a problem area, forming it as an open-ended question. They presented their challenge to the students, answered questions, provided some mentoring, and judged the teams who participated based on the cohort's own criteria.
Space Cohort: Climate Change
"Your job is to create an interactive product that will reduce the SPACE between individuals and the topic of climate change. SPACE can relate to geographic distance, but it can also relate to differences between cultures, livelihoods, or beliefs. It can also relate to distance in time: the perceived SPACE between the present and the future. This creative endeavor should reduce the physical and psychological distance between people, and encourage cooperation to address the specific climate change issue you chose."
Winners: Trevor Gerald, Rohan Suggala, Alex Rankin
Project Name: Scientia
"Scientia is an app that allows consumers to monitor their carbon footprint and learn how to reduce it. They can compare their stats to other users in their area. The app also provides customized insights based on several factors."

Movement Cohort
"Design an auditory representation of the movement of a specific object (you can choose the object and the scale). How can we use sound to humanize our relationship to data? Can we use sound to make data more accessible to more people (for example, people with visual impairments or people who cannot understand textual information quickly)? Can we use sound to inspire an emotional connection to data (what stories do our data tell, how might emotion inspire us to act on what we learn from data)? How many variables should be included in your system of sounds to describe the movement of your object? What purpose might your system of sounds serve?"
Winners: Ben Underwood, JC Yan, Hasiba Nasser
Project Name: Tone Sonification
"One of the features that Grammar.ly current has in beta is a Tone Detector. Since 2 of our members had some background in music, we knew that certain musical chords can sound happy, sad, angry, and many other emotions. With this knowledge we wanted to try to use a tone detector to match every sentence's tone with a chord to hopefully create some music that was reflective of an article, letter, and much more."
Elements Cohort
"Think of an issue in your community from everyday life; there may be different elements (e.g. data or images) related to the issue that seem mundane, but when collected at scale, can be used to tell an important story. Create a platform or set of tools that guides the process from gathering many pieces of separate data to visualizing it on a map (if it is location-based data, or else another appropriate format depending on the data), to using the data to tell a compelling story to the public. This could be used by small groups of scientists or community members to organize "citizen science" projects where members of the public upload data from various locations and then to better explain their work and results."

Winners: JC Yan, Ben Underwood, Emma Wang
Project Name: PollenTracker
"We built an app that uses the community to track large movements of pollen by educating people about how to identify common allergens and providing a platform to post their locations so we can model pollen movement according to wind patterns. This app provides an opportunity for people to take allergy medications ahead of time or to avoid the area altogether. It shows the story of a community's ecosystem and helps not only the scientists, but the public see various endangered and invasive species."
---