February 1, 2018
Byrd 1933 Screening at The STEAM Factory
Image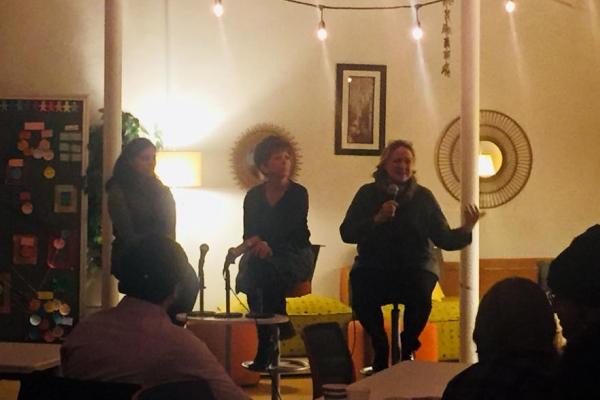 Description
It was popcorn and movie night at the STEAM Factory on Thursday, January 25th, as we hosted the Environmental Humanities Program and Byrd Polar and Climate Research Center showing a special screening of Byrd 1933, a fully edited visual re-telling of the yearlong extraordinary Antarctic expedition. Byrd 1933 is a film created entirely of found footage from 28 reels of film shot from 1933-1934 by cinematographers from Paramount who joined Admiral Richard E. Byrd on his second expedition to Antarctica. These reels were preserved at the Byrd Polar Archive and transferred to digital mediums through a grant from the National Film Preservation Foundation. Filmmaker Pamela Theodotou meticulously cataloged these film clips, creating a film that captures this breathtaking expedition. Set as a silent film, Theodotou incorporated clips of Admiral Byrd's voice from audio, the recordings of organic sounds of Antarctica, and added music to enhance the tone of the film.
Following the screening, our STEAM audience participated in an engaging Q&A with the director and filmmaker Pamela Theodotou, Laura Kissel, Polar Curator for Byrd Polar and Climate Research Center, and Melisa Diaz, graduate student and Polar GeoChemist. Questions ranged from "Why bring cows to the Antarctic" to "what kind of fossils did they find?" The answers to these questions may surprise you. Byrd brought along three cows, one of which was pregnant and as you may guess, fresh milk was one of the reasons. However, the main reason he brought the cows was for media attention. He wanted to be the "first" to have a calf born in the Antarctic Circle. He named the calf Iceberg, and Iceberg became just as famous as Byrd did. Our panelist Melissa Diaz talked about her expedition to Antarctica and her love for the cold. We learned that during the Byrd expedition, geologists found tree fossils only 120 miles from the South Pole showing that Antarctica was once a much warmer climate. She prefers the climate today!
Continue this journey and follow the Byrd Polar and Climate Research Center.
Website: https://bpcrc.osu.edu/
facebook: https://www.facebook.com/byrdpolar/
---