March 6, 2018
Make OHI/O challenges students and community to create
Image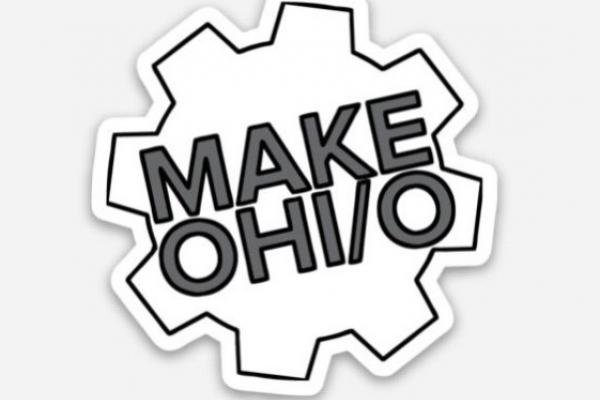 Description
Written by STEAM Factory Intern, Xiaohan Huo
The annual MakeOHI/O hardware hackathon at the Ohio State University concluded with great success this weekend with students' wonderful products. When entering MakeOHI/O, students were challenged to come up with their own ideas, but could also pick from existing categories like Google Assistant, May We Help and specific sponsorship challenges. The final products of students were judged by a group of diverse and professional judges, however, the prizes were categories of "The Best in the House," "The Most Socially responsible," "Face the Most technical Issues". Through 24 sleepless hours, from March 3- 4 on campus in Knowlton Hall,  there were seven teams selected to be recognized based on their unique perspective of their projects, and three teams selected for the specific sponsorship category.
One of the winning teams for the May We Help challenge created a dog treat shooter using nerf gun for a woman who otherwise wouldn't be able to interact with her service dog in  her wheelchair. Derek Hendrock, a fourth-year in engineering, who is a part of this team said, "I learn a lot better by breaking things outside of the classroom. I do these events because this is what I'm good at and this is where I shine."
MakeOHI/O's registration is open to anyone. You don't have to be an Ohio State affiliated to participate. In this way, it not only attracts a lot of engineering students, but also working professionals, international scholars and etc.
Fellow organizer, Sonya Kapoor, a second-year computer science and engineering major shared, "I did the Makeathon last year and I loved it so much that I wanted to be on the organizing team this year." She also shared the challenges they faced behind the scene to put on this event.
"A huge challenge of this event is that we are a very large enterprise with a lot of money involved, but we also heavily student run," she said. " We don't have a lot of the continuity between years, so a lot of us haven't done it before and we are always rotating positions."  
"It's definitely been growing in the past few years in terms of participants and name recognition.There are only three makathon in the United State and Ohio State is one of them," Kapoor said.
Because of all the efforts student organizers put into this event, a lot of major engineering companies were present to offer technical support such as Honda, Accenture, Bosch and others. A number of faculty members were present there throughout the night to help students as well. Even though this was a competitive event, students were still able to cooperate with each other and help each other out.
Steven Bibyk, one of the organizers of this event, shared his vision for where this event is going in the future.
"I've been teaching for 30 years, and the thing I always notice is no one really knows exactly the best way to educate. I'm trying to build a new type of event where they have to do a pitch and do know what they want to do because the best project requires planning and they require some type of writing," he said, "What's not appreciated here in a 24 build is how much writing you have to do to take this into real world, to convince venture fun, customers or marketing. We are also trying to involve more activities where there will be some writing involved."
---