December 8, 2021
Mary Rodriguez: Helping communities combat food insecurity
Image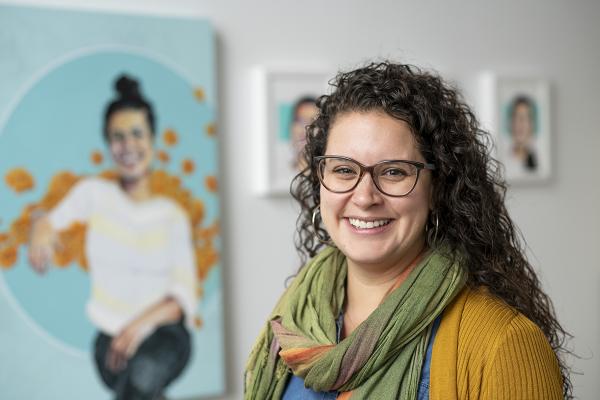 Description
Originally published November 30, 2021
As a child, Mary Rodriguez can recall days when, every so often, dinner looked a little different than others: a meal of rice and salchichas (sausages or hot dogs) or rice and a fried egg.
At the time she thought nothing of it. But in hindsight, Rodriguez realizes her family experienced periods of food insecurity.
A mother from Colombia and father from Nicaragua, her parents arrived in the United States as teenagers to restart their lives. That meant learning a new language, navigating a new country, feeding a family.
"It came with so many challenges," says Rodriguez, an associate professor of community leadership. "And I've seen that struggle in my work. It fuels my passion for improving food security for households to build foundations for families and support communities."
A social scientist, Rodriguez specializes in community leadership, which empowers people to address their needs, whether it's food security or other poverty challenges, to lead their communities through change. She's done this in her work abroad, in low- and middle-income countries, and at home with New Americans, recent immigrants or refugees to the U.S.
To do this, Rodriguez engages community members to first understand the needs at a household level. Then she works with people to find ways to help people build resiliency — that means exploring and making good use of household assets, such as agricultural skills, relationships within the community and organizations and nonprofits designed to support those who need it.
"I want my research to be impactful, and in order for it to be impactful it needs to incorporate the voice of the community for sustainable change," she says. "If I come in and say, 'Here are all your problems and here's how to fix it,' that's not sustainable.
"Community-engaged scholarship takes time, but if I can help one household and one community at a time, that will trickle out and make big changes."
Rodriguez often works closely with women. Not only are women good stewards of money and household resources, she said, but they adapt quickly to challenges.
She's taken this approach at home and abroad.
For instance, she is the co-principal investigator on the GROWS (Governance Research on Water Systems) project through Ohio State's Global Water Institute. The project aims to improve water governance in Kenya, Tanzania and Uganda. Part of Rodriguez's role is to understand how water, or lack thereof, is impacting each household and how we can improve the long-term sustainability of locally managed water sources.
Bringing research home to Ohio
Going back to her time in the Peace Corps, Rodriguez's work has often taken her to similar low- and middle-income countries to address food insecurity. And she's brought those lessons home.
"I am super passionate about helping communities where I am," Rodriguez says.
In one of her early projects at Ohio State, she helped develop a women's empowerment program with Somali refugees in Columbus. Her recent work has involved visa lottery winners from Arabic countries through the Riverview International Center (RIC), a nonprofit resource center in Columbus that has become a popular landing place for New Americans.
"Her community engagement process really blew me away," says Kirsta Benedetti, who founded the RIC. "It was so focused on benefiting people, giving back. It was very encouraging.
"She knows how to walk into a new community and empower what's already going on."
Much of Rodriguez's work at the RIC came during the COVID-19 pandemic, when this population of New Americans was hit particularly hard, Benedetti said. Rodriguez's process helped this community feel validated and seen.
Along with improving the well-being of families and communities, Rodriguez also strives to educate and inspire the next generation of social scientists.
"My research is coming back directly to Ohio State and impacting the development of my students," she says. "They don't have to be passionate about what I'm passionate about, but if they can see how my passion is driving my work for the betterment of a community, then hopefully they'll find ways that their passions can be conduits for the betterment of their communities."
---