November 16, 2019
November Franklinton Friday
Image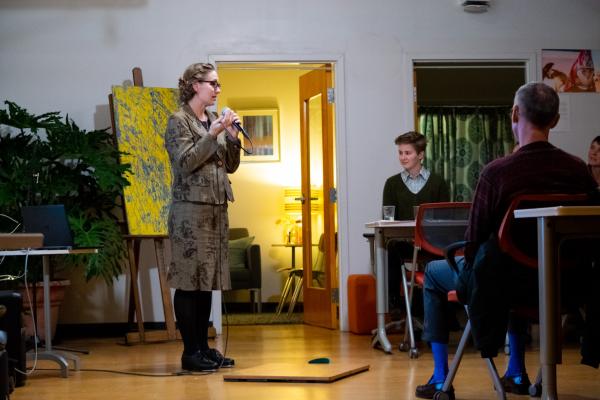 Description
By: Maria Bergman, Student Assistant at The STEAM Factory
   This month's Franklinton Friday followed the fascinating theme of Space and Movement. This monthly event takes place to offer observers the chance to encounter a culmination of science, art, and entertainment in the form of micro-lectures and interactive tables. Presentations are given by a diverse array of scholars and researchers from Ohio State University and other visiting university in line with a specific topic theme. Being that this month focused on Space and Movement, the topics ranged from recreational math, the celebration of mind, approaches to environmental problems, community engagement and development, a study of movement through time and space in music and dance, and lastly two TED-style talks on health challenges. As always, our event was coupled with delicious food, a lively atmosphere, and great conversations.
          A representative from the Department of Math at The Ohio State University provided a table for an interactive presentation of the celebration of mind and recreational math. The goal of their engaging activities is to help make math fun again and show that there are more ways to be exposed to decision making and mathematics than what is taught in school. This was expertly accomplished using puzzles and games. They were the target of many who wanted to test their ability in solving the complex puzzles; to the chagrin of many who spent significant time attempting to solve them. Furthermore, Leonard Sparks, Master Educator from COSI provided activities studying magnetic poles and movement, as well as using colored squares to prove depth and identification of an image can change using different color applications. Leonard's activities highlighted that the earth is not just horizontal and vertical views, but if you train your brain to look in more ways than you can open a whole new world of possibilities.
          The first micro lecturer of the night was Dr. Matt Hamilton, an assistant professor in the School of Environment and Natural Research at The Ohio State University. His research follows how people work together to solve environmental problems. He led us through a look at what the benefits of working with other people- it is more fun, and it is easier to accomplish work more efficiently and quickly. Furthermore, we looked at the situations with three nodes of people, and how to understand the linkages for beneficial collaborations.
          Following Dr. Hamilton was Dr. Mary Rodriguez. Dr. Rodriguez is an assistant professor and spoke about community leadership and development- specifically Household Wellbeing. She explained how it is characterized at the impact of development. Furthermore, her research looks at how development can alter the state of your household in the context of agriculture. By looking at spaces where we engage in consuming food, water, and housing. Specifically for the use of space in neighborhoods in low income neighborhoods and how important that space is.
          Next, Dr. Rachel Short presented on moving through space and time through music and dance. Her research is on the analysis of musical meter and choreographic phrases in musical theatre and dance hemiola. Dance hemiola is taking the notes given and adding steps, she gave us an example of this through her own tap dance efforts.  Moreover, the concept of art and how it moves us. Her presentation fit perfectly in with our theme on how musical time plays with space time.
          The first of our health-related TED-style talks was given by Dr. Jonathon Brammer. He showed us his research and experience on how inflammation causes leukemia, and hopefully how we can stop it. He studies T-LGL and rare diseases. He ended with a case study of a patient whose skin felt like stone through the inflammation symptoms from the form of leukemia they had.  
          The last presenter of the night was Dr. Matthew Cherian. Dr. Cherian's research follows the mechanisms of endocrine resistance and how cancer cells have found a way to turn receptors back on and proliferate. As 70% of breast cancers are driven by estrogen and estrogen receptors which have been stimulated this work is especially important. Most symptoms of the body have feedback- beta genes can inhibit alphas. By turning on one aspect you can block that of another gene's expression. You can apply this to looking at evolutionary expression and why we have two receptors.
          As usual, this was a wonderful night full of opportunities for good food, strong conversation, and the chance to gain new knowledge and better understanding of interesting topics. Join us for our next Franklinton Friday on December 13th, where the topic is Movement.
---